Read how the City of Kirkland has created a user-friendly site to improve how citizens and employees connect and collaborate.
The City of Kirkland is located on the eastern shore of Lake Washington, just east of Seattle and bordering Redmond. The original home of the Seattle Seahawks and the retail giant, Costco, Kirkland is a picturesque, waterfront city that was ranked by Money Magazine as #5 as one the Best Places to Live in 2014. With a population of 84,680, Kirkland is the thirteenth largest city in the State of Washington. There are numerous high-tech employers in the region including Google, Tableau, Microsoft, GoDaddy, and Nintendo.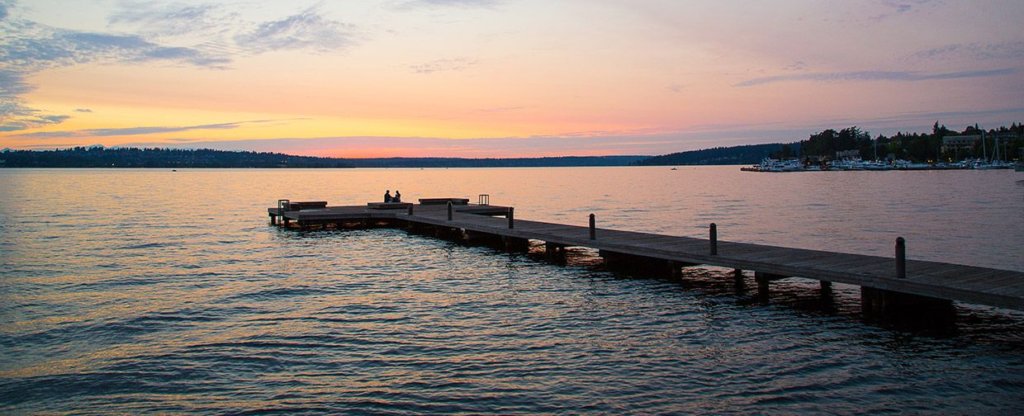 "We Needed This Intranet Yesterday"
Kirkland residents enjoy a full range of municipal services provided by 11 departments and over 600 employees. These services are supported by an IT team that increasingly felt stretched to the max as they strove to address the needs of multiple city agencies and departments. Eager to find a solution that helped them be more efficient, the City of Kirkland's IT staff began to look for a solution that would enable employees to more easily maintain their Intranet department sites without needing custom programming.
Kirkland wanted to offer their employees greater creative control over their respective sites. The new sites needed to match their existing city branding. They also needed built-in tools to make it easy for employees to create, find, and update visually appealing content. Kirkland's users did not have an easy way to create visually appealing SharePoint content. Even a seemingly simple request, such as adding pictures, required custom programming. With the IT department providing technical support for Kirkland's 11 departments, responding to these types of lower-priority requests took time.
Kirkland needed their new intranet to serve the needs and requirements of a broad user base of internal and external stakeholders. Most of all, Kirkland's IT team needed a site built on a reliable framework that would not break whenever SharePoint released new updates. They also needed support for anytime, anywhere access to their intranet.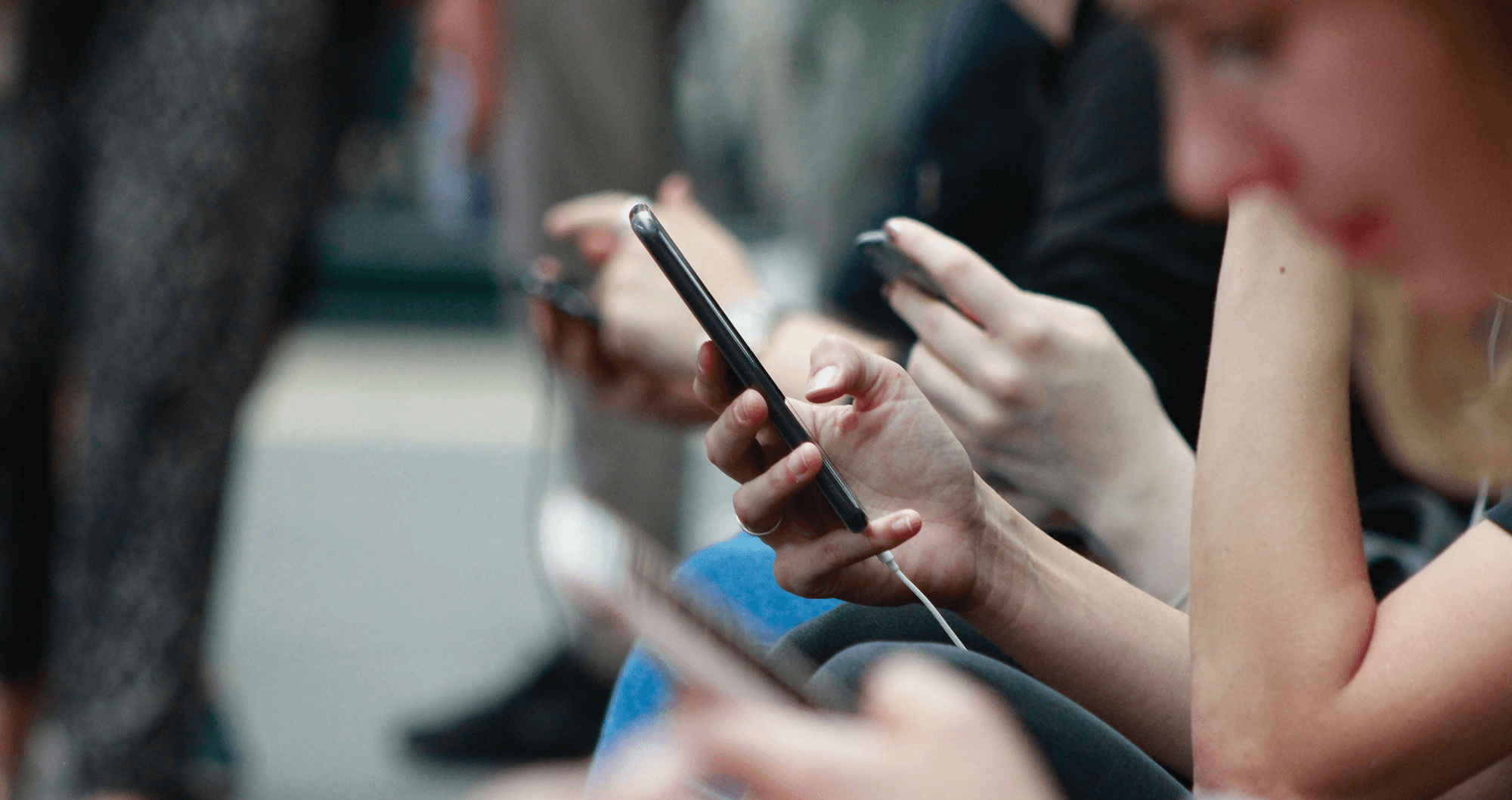 Key internal stakeholder goals: The site needed to accommodate the information needs and workflow requirements for a variety of departments including emergency management personnel, such as police officers and firefighters, finance personnel, administrative professionals, and public works employees that were often in the field. Kirkland wanted a user-friendly, mobile-ready intranet that would stimulate user adoption across the board and boost workforce productivity whether they were in the office and behind a firewall or out in the community working face-to-face with residents.
Key external stakeholder goals: The City of Kirkland conducts a significant amount of neighborhood outreach. As such, they wanted a SharePoint solution that would make it easier for them to collaborate with a number of outside entities and vendors.
Our employees had never really adopted our previous SharePoint site. It wasn't available externally, it was hard to find stuff, the navigation could be inconsistent and visually it was a bit flat. Now, thanks to BindTuning's customizable theme and web parts we have a polished looking site that looks great and is accessible beyond our firewall. We have every reason to believe this site will support transformational change throughout the organization, and we're really happy with that.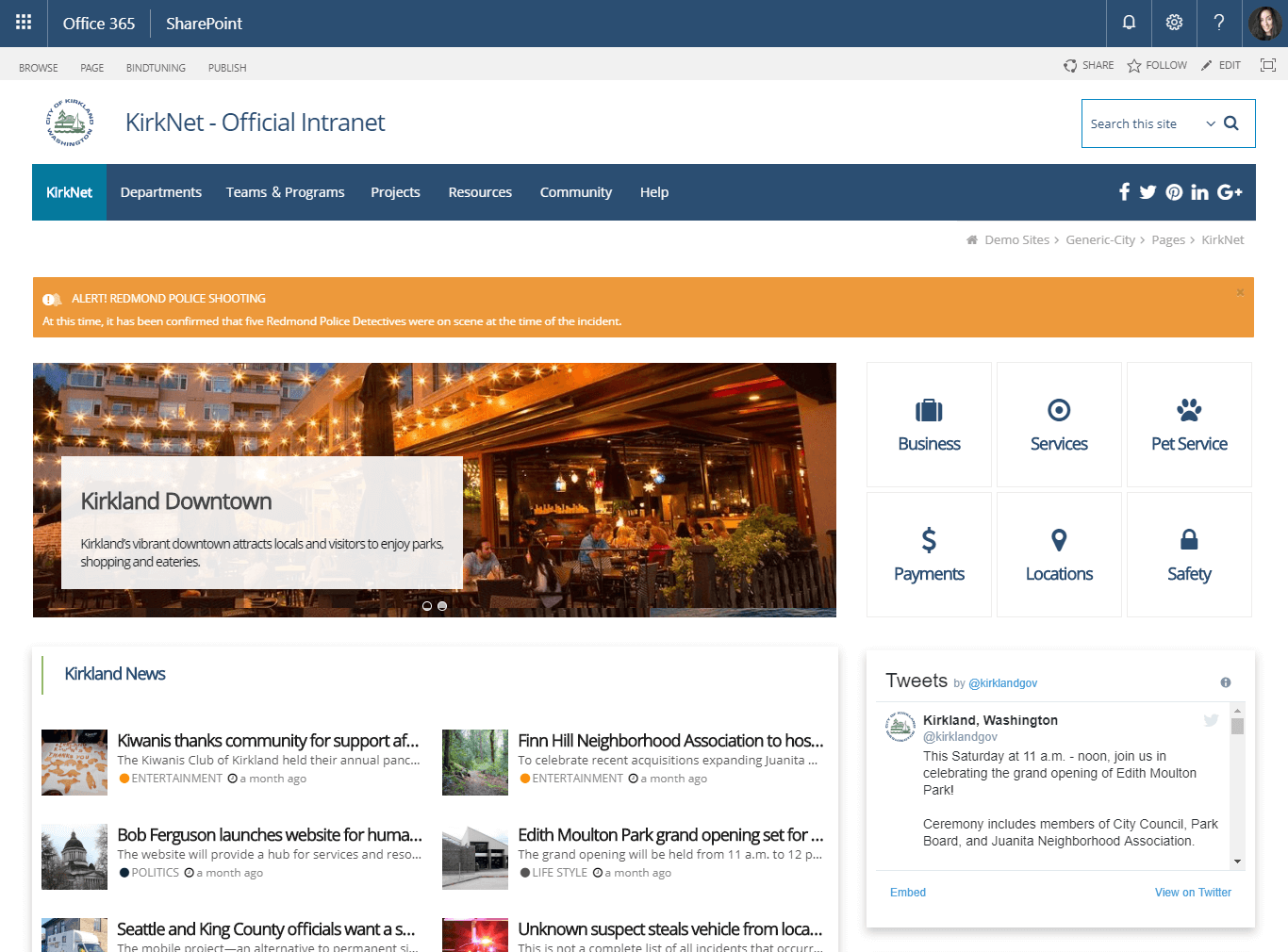 Kirkland turned to BindTuning for help in designing a solution that would:
Increase the aesthetic appeal and functional quality of their intranet in a more expedient manner
Enable users to update and manage their department sites without always needing to go through IT
We wanted our users to feel empowered from a creative standpoint regardless of their skill level. BindTuning's solution did the heavy lifting, allowing us to deploy an intranet that our users actually want to use.
Kirkland IT worked closely with senior level project stakeholders in key departments to identify the core requirements and needs for their new cloud-based intranet. From this, they crafted a detailed roadmap of stakeholder priorities and design expectations.
Easy to maintain, future-proof development
After creating a roadmap for the functional and content requirements for the new intranet, Kirkland's IT team launched an in-house effort to customize a new SharePoint 365 environment. Their goal was to ensure that they would have the technical skills in-house to create and maintain what would be their cloud-based intranet.
Although Kirkland did not have a core developer on their team—which is typical for smaller cities—they believed they were ready to handle the challenge. As Mullin put it, "We're technically savvy designers, more UX guys than developers. But we can get under the hood and get things done." The IT team initiated a months-long development process that resulted in a workable design. But customizing SharePoint Online proved to be far more difficult than they had initially anticipated. Despite their best efforts, their prototype produced a product that the department was not staffed to support.
We'd fix one thing and something else would break. We burned a lot of time trying to get the site where we needed it to be. Although we got pretty close, we began to worry about what would happen in the future. There was always the chance that a SharePoint update would break our site design. Frankly, we didn't have the bandwidth to constantly monitor the site to look for those kinds of impacts. With BindTuning we no longer have to worry about the sustainability of our site design.
A subsequent search for a better alternative led Kirkland to BindTuning. Within months of starting their engagement BindTuning was able to provide Kirkland with a set of designed, branded SharePoint templates that exceeded their expectations.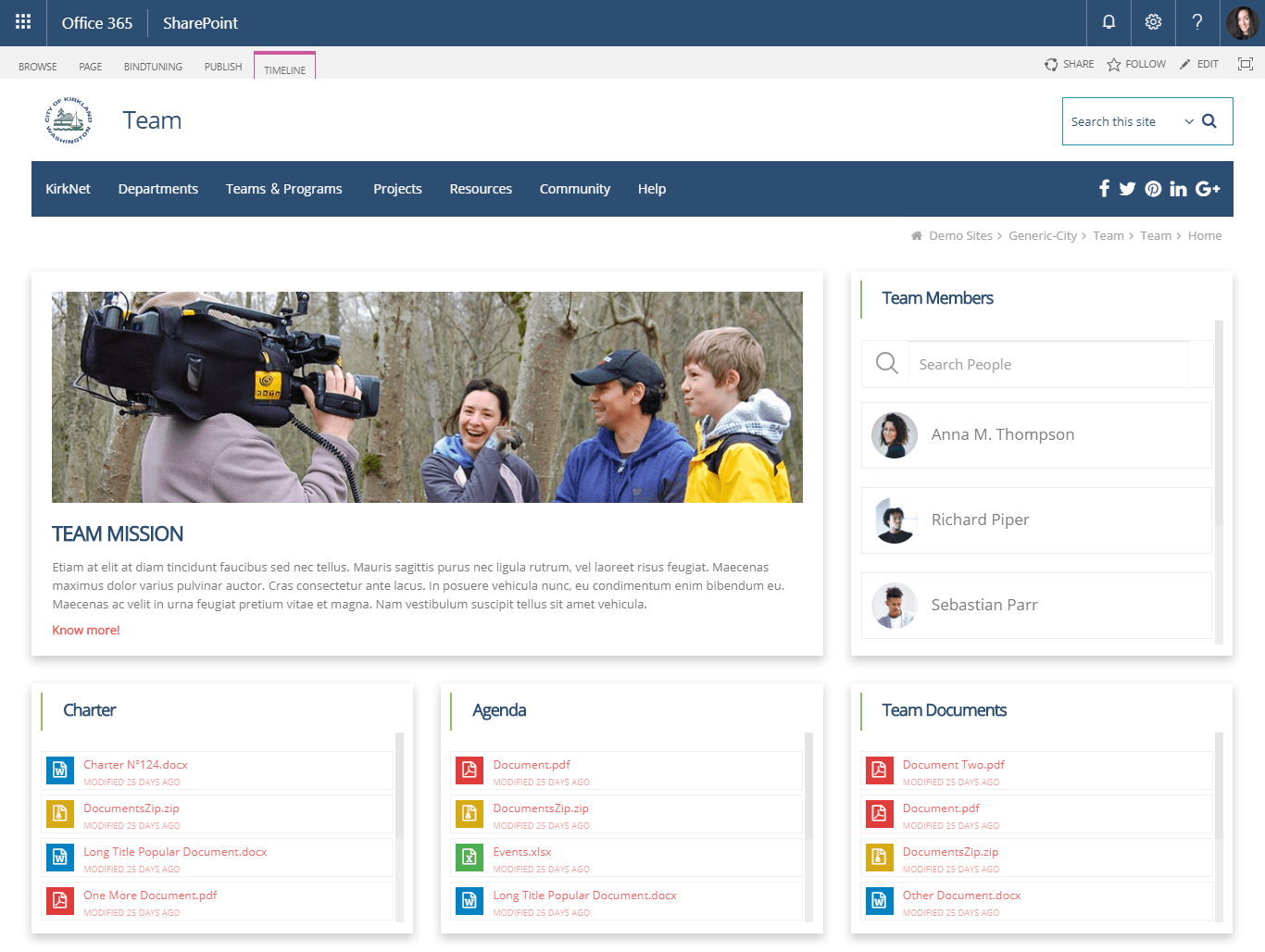 Our stakeholders have been impressed with how polished the new site looks. Our site content is so much easier to find now. I have no doubt it's made our goal of increasing user adoption far more attainable.
When researching vendors, Mullin discovered that so-called "Intranet in a Box" companies did not offer customized templates without an expensive, full redesign engagement. In contrast, BindTuning helped Kirkland to develop a set of branded templates that they could use to easily create new sites and pages. BindTuning also added a number of their web parts to better accommodate Kirkland's unique user needs.
The newly customized themes and web parts resulted in an intranet that fulfilled Kirkland's top stakeholder needs and goals. What's more, the new department site templates reflect their visual branding, providing a polished and consistent user experience. Best of all, the site designs came together quickly, which prompted Mullin to recommend BindTuning to several of his counterparts at other agencies.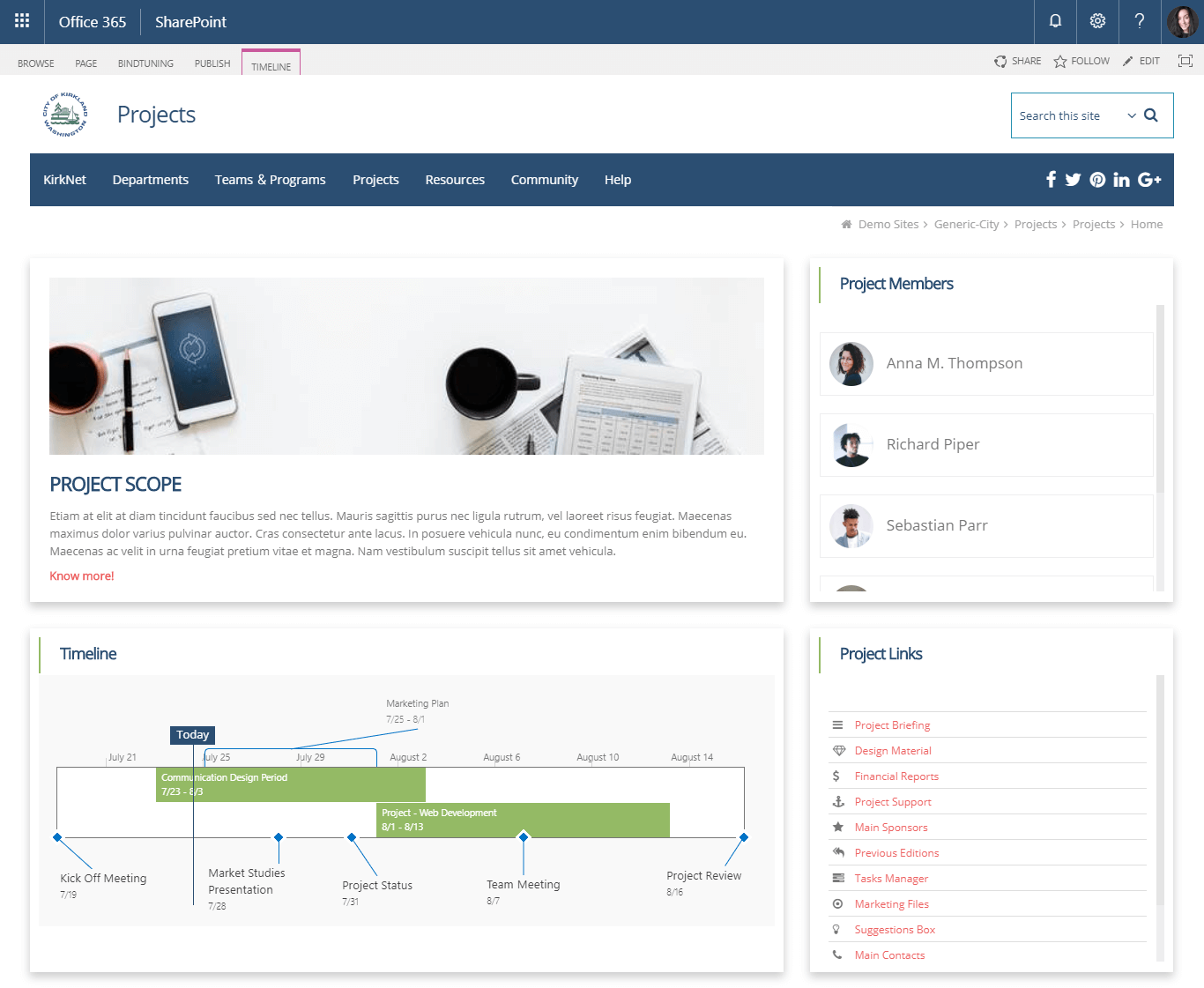 Save yourself a lot of pain and heartache and talk to BindTuning. Trust me on this. They'll get it done in a fraction of the time it would take you and your team.
Flexible pricing for easier procurement
Like many city governments, the City of Kirkland strives to deliver their services in an effective and efficient manner that remains mindful of budget constraints. When Mullin decided to research external vendors that could provide them with an intranet that could be customized to match their brand and accommodate their content needs, affordability quickly became a major hurdle that proved difficult to overcome until they ran across BindTuning's products and services.
Some vendors we approached would show us pictures of sites that cost $100,000 or more to build. We don't have that kind of cash to spend on a redesign. We're a small city and the budget's the budget.
Having already spent some of their budget with their in-house development efforts, Mullin needed a vendor that could deliver a customizable yet affordable solution. After testing out BindTuning's templates and web parts and talking with BindTuning's U.S.-based sales team, Mullin realized that he had discovered the ideal development partner. "BindTuning came back to us with an offer that fit our budget and spending authority. They made it easy for us to bring them onboard as a vendor," Mullin confirmed.
Although gathering support from his key stakeholders took time, his stakeholders were enthusiastic once they saw the beautifully designed yet flexible templates that Mullin was able to create from BindTuning's themes and web parts.
The wheels of government can move slowly, especially when you're trying to pivot to a new direction. We had worked really hard and burned a bunch of time trying to do this on our own. If I could go back in time and start over, I would have just gone with BindTuning from the beginning.
Digital Transformation Outcomes
Empower employees and external stakeholders to securely share and collaborate on any device from any location by deploying a cloud-based SharePoint intranet
Provide end users with creative control over SharePoint department sites
Reduce burden on IT staff to provide intranet design and development support
Key Solutions
Microsoft® SharePoint™ Online Office 365®
BindTuning SharePoint™ Office 365® Themes and Web Parts
---