Every day in this corner of London, Newham College students are logging in to their classes on whatever device happens to be available. They are determined to continue their education during what is without question, the most challenging period for education, in recent history. And that is why they reached out to us - to design an intranet that allows their students success.
Newham College is a thriving institution in this area of London that isn't financially affluent. Many of the over 22,000 students are learning in "digital poverty". They log into classes on any device that works, primarily mobile ones. Not unlike other educational institutions, Newham's IT department is working to not only maintain learning continuity and keep students engaged during a seemingly never-ending pandemic.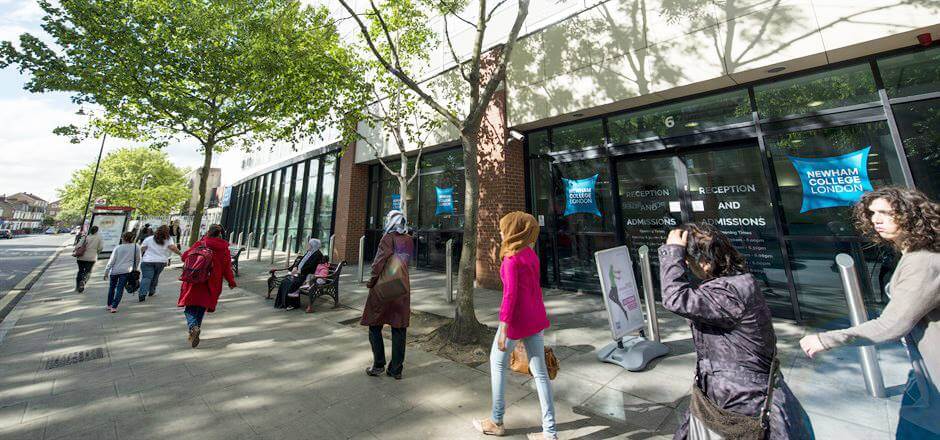 No one understands this better than Darren Evans, head of Information Technology at Newham College. He is uniquely positioned to deliver the technology to meet the needs of Newham's diverse student body.
Bringing life to online learning community
A longtime customer, Darren began working with BindTuning products back in 2014, for a different institution. Back then, he was looking at an outdated SharePoint 2003 intranet and with a desire to bring life to it, he found BindTuning. Darren went from what he calls "zero skills", to rolling out an intranet that was showcased to 14 colleges by JISC a higher further education organization in the UK for digital services and solutions. The college went on to receive academic standing from the OFSTED - Office for Standards in Education in the UK - in large part because of their intranet.
Now fast forward to his current role as Head of Information Technology for Newham College, and Darren was yet again facing an "awful" intranet. The out-of-the-box SharePoint on-premises, that only 4 users were capable of updating, never evolved further than that of a file repository. It linked users to files and the effort to do this demanded a generous amount of time from their staff.
The goals for the Newham college intranet were quite familiar; create a visually appealing, easy-to-use space where users can add content directly for themselves. Turning again to BindTuning, they utilized the Design and Build features, allowing for content to be easy managed by their staff.
Easy distribution of news and alerts
Today, the Newham College intranet has not only transitioned from on-prem to Office 365. Over 40 staff members keep the content fresh because it does not require high technical skills to manage. No longer do they struggle with communication. One of the biggest drivers for the intranet was easy distribution of news. Using the Quick Links web part, they cater news to users using audience targeting.
"I'm quite passionate, and for me BindTuning has been absolutely fantastic."
The Alerts web part is widely used on the site as well. "What an amazing product, because you do get blind to what you are looking at and people really take note. We don't overuse them but utilize alerts when we have something important," said Darren Evans. All COVID communications are driven by BindTuning products and those running COVID communications do all the updates because they are able to do it themselves without IT support.
"Using an intranet in the right way, saves you so many man-hours answering the same questions – finding the right document, finding the right member of staff," said Darren Evans. Using the People web part, they launched Staff-Finder a user directory and it is one of the most heavily used products. "It just works. We set it up and leave it," said Darren Evans.
As for which web part is their favorite? Newham has all BindTuning products in use on their intranet. "We use all the web parts. Can't say one is best. The only one we don't use is the Stock Ticker. Otherwise we use them all," said Darren Evans.
Making impressions, maintaining interest
Of course, first impressions are always important for an intranet and the Newham College intranet is always evolving, always changing to maintain interest and usage.
"I'm not that creative but I don't need to be. BindTuning does the creativity for you. We've gone thru every theme in the subscription because I get bored, and it is so easy to change. Keep it fresh or you lose people's interest."
When help is needed, BindTuning is there. "The support is absolutely second to none. Francisca [Peixoto] is timely and the guys on tech support are unbelievably amazing. Pedro [Leite] is unbelievable. He is a bloody genius. The level of support before and after we purchase products is the same. You can't buy that," said Darren Evans.
"To be honest, I expected it to not be as useful as it has been. And as it has progressed over time, it's gotten better and better. Not all products take a good route, and some become unusable, but not BindTuning."
Accessibility - Education for all
Adding assistive technology to their intranet has always been a priority. With approximately 10% of the Newham student body in the SEND (Special Education Needs Department) program, the pandemic posed a catastrophic threat to the education of roughly 3,000 students (not to mention their good standing with OFSTED).
"Every single learner is important and cannot be left behind," said Darren Evans.
For students with certain disabilities, Windows native accessibility tools were not intuitive to use or configure. As it was, the IT department regularly received 100 tickets weekly from SEND – the teachers themselves also struggling.
"We didn't tell them we were deploying the Accessibility Tool for SharePoint – we just deployed it. And guess what - no tickets in 2 weeks. Teachers are very vocal in their requests for support on behalf of their students, so we believe it resolved the bulk of their problems."
During the lockdown, the move to O365 and the new way of remote learning placed the education of the cohort at risk. So much so that the entire cohort had to be brought onsite. With the addition of the Accessibility Tool for SharePoint, things are much improved. "It is great. Not sure what else to say - it's great. The teachers want what is best for the learners," said Darren Evans.
"For years we looked at very expensive tools, and most don't really do the job. The (Accessibility) tool is rolled out for every member. It is deployed everywhere and it so discreet as to not be a distraction. Unless you are looking, it is not a distraction. When we finally sent all staff the email to say that the tool had been already deployed, we got some great feedback: "this is brilliant". Even people who don't really need it, are using it. Even if not needed, it assists." said Darren Evans. "I'm a big fan of BindTuning anyways, so it's just another tool in the mix."
What's next?
As for what's on the horizon, Microsoft Teams and the Accessibility Tool for SharePoint. Microsoft Teams is the most used product in the organization and Darren looks forward to implementing BindTuning products there. "We love Teams, and if we can enhance it in any way or form, fantastic," said Darren Evans.
The next big push is sustainability. "While your software may not directly relate, it allows us to work the way we do now. It is also easier for us to deploy, update software. We don't need to worry about that anymore. Now I just run the tool and it does (the update)," said Darren Evans.
Helping others along a similar path
Having earned recognition as an expert within the education community for SharePoint intranet development, Darren has introduced BindTuning to many other institutions and he does so with the sole intention of helping others who struggle along a similar path.
"I've been to 30 different colleges now and they don't have SharePoint skills. There's not a key person on staff and it is a difficult skillset to learn. But I could not have done 20% of what I've accomplished without BindTuning products. It doesn't take me away from my normal job."
Technology:
SharePoint On-Premises, Office 365
Microsoft Teams
BindTuning for Teams
---