Follow along as we walk you through the process of implementing a powerful Knowledge Base in SharePoint, step-by-step using BindTuning web parts. The result is a better knowledge base in SharePoint that easily points users in the right direction when in need of information.
Starting from a site collection home page, we use the BindTuning Slider web part to create an appealing header. From there we leverage the BindTuning Accordion web part, plus the newly released BindTuning Table of Contents web part to better organize, structure and display content. All of these web parts (20 in all!) are included in the BindTuning Build subscription. Let's get started...
A single workspace for intellectual capital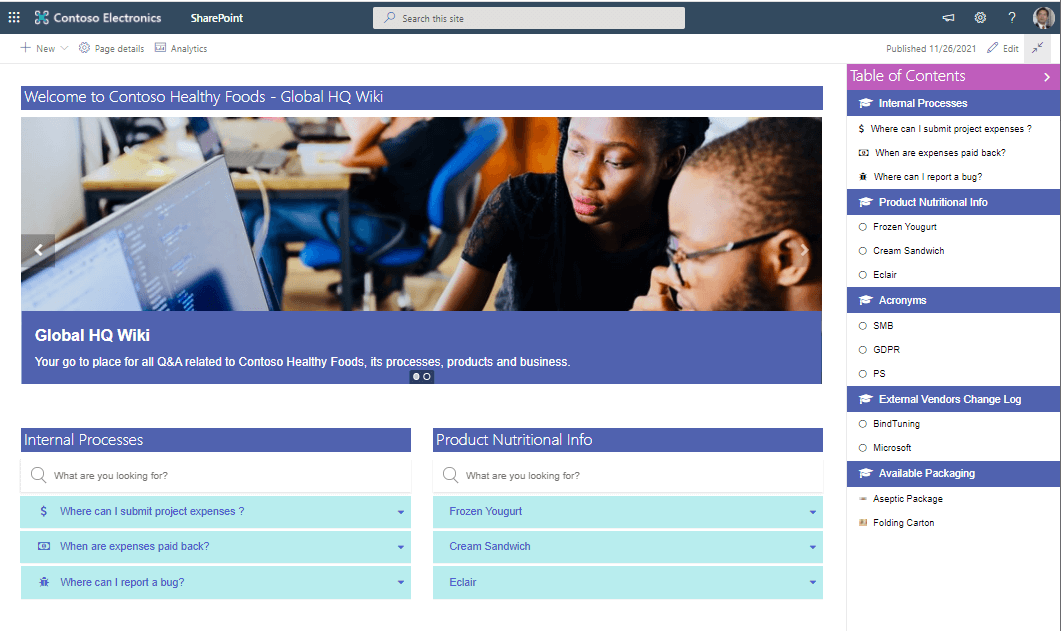 A well written and effectively structured internal knowledge base should be the base of any team's self-service and onboarding strategy. Not only does it show your staff that you care about them as much as you care for your customers, but it also helps improve productivity, promote collaboration, gather best practices, and retain knowledge.
If you are already leveraging other apps within the Microsoft 365 productivity and collaboration suite, building an internal Knowledge Base on top of SharePoint is a low risk, high payoff investment. Even if you don't yet have a fully working SharePoint intranet with a complex architecture, you can start small and create one single site collection with a couple of pages to create a Learning & Development center that centralizes important information on products, services, departments, or topics of interest.
The Modern SharePoint experience allows for the creation of tagged article pages and metadata rich lists & libraries so even if you can't afford to invest in more complex Microsoft solutions such as Microsoft Viva Topics, you can still leverage many of the advantages of having a single place for sharing intellectual capital.
The Challenge
Discoverability is critical when it comes to Knowledge Bases. One of the main challenges when creating a Knowledge Base in SharePoint is creating an optimized Home Page that helps users easily navigate through content, quickly finding answers to simple questions, identifying key topics and going in-depth with additional resources.
The Solution
Some of the strategies used to speed up and simplify the way users search and find information in a Knowledge Base Home Page are:
Grouping issues by categories or topics,
displaying lists of FAQs front and center,
adding links to in-depth information,
and creating an index or table of contents to improve user experience in long pages, with lots of content.
Follow along to our KB for detailed, step-by-step instructions on how to build a better knowledge base in SharePoint:
Build a SharePoint Knowledge Base
Let us get you started
Improving collaboration and making information easy and available for all, is absolutely essential to organizations. BindTuning has not only the tools but also the training to help you do it.
Schedule a meeting with our team and we'll show you even more reasons to choose BindTuning. We'll give you a quick demo and help you understand how you can do more than what OOTB has to offer.
---